FieldEdge® Announced in People's Choice Stevie® Awards for Favorite New Products
June 7, 2017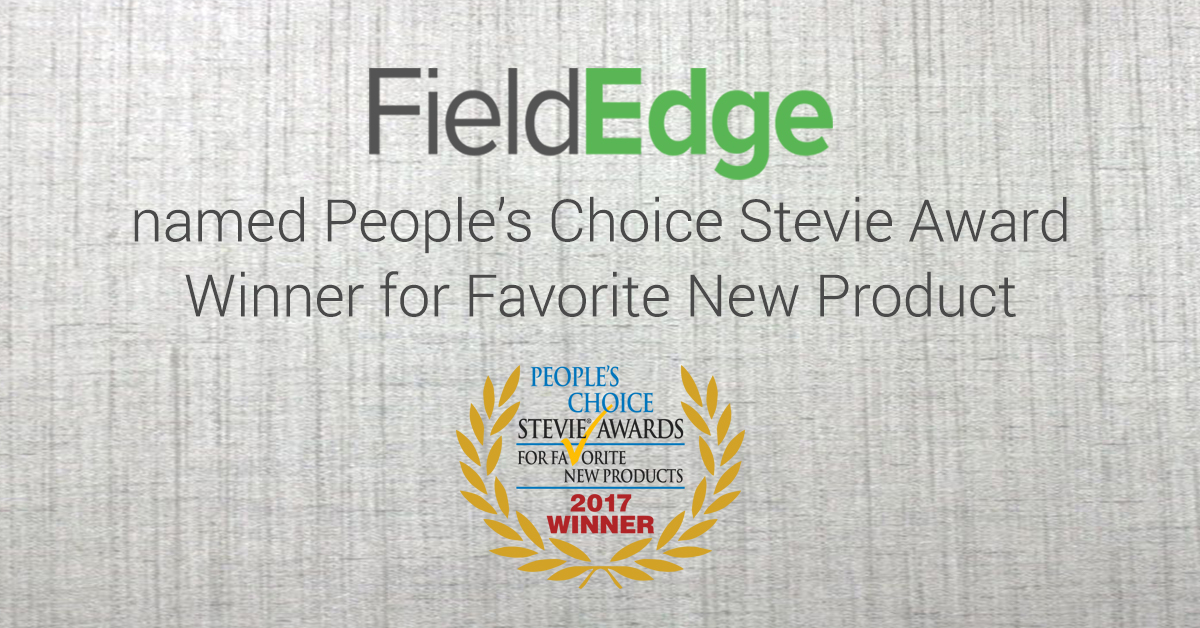 The nationwide public vote was conducted last month, with the highest number of votes deciding the winners in a variety of product categories. More than 38,000 votes were cast. To win, a category's leading vote-getter had to have received at least 100 votes.
The crystal People's Choice Stevie Awards will be presented to winners at The American Business Awards' banquet on Tuesday, June 20 at the Marriott Marquis Hotel in New York, NY. Tickets for the event are now on sale. There, the winners of peer-adjudicated Gold, Silver and Bronze Stevie Awards will also be presented their awards. More than 550 nominees and their guests are expected to attend.
All new products and services recognized as winners in the new product awardscategories of this year's American Business Awards were eligible to be included in voting for the people's choice awards.
The winners of the 2017 People's Choice Stevie Awards for Favorite New Products are:
B2B Products: Qstream's Coaching Hub
B2B Services: Arise Starmatic Scheduling System
Computer Hardware: IGEL UD Pocket
Consumer Electronics: Anki's Cozmo
Consumer Products & Services: 4LifeTransform Burn
Content – Content Marketing: Thomson Reuters' Checkpoint Marketing Social Media Solutions
Content – Reference/Legal: Enquiron
Content – Sales/Marketing Intel: Ignite Sales Customer Engagement Management Platform
Education – Classroom Mgmt: Cirkled in School Offering
Education – Cloud-Based: Cirkled in School Offering
Education – Game/Virtual/Other Curric: Advantexe Learning Solutions Drivers of Business Performance Business Simulation
Health & Pharmaceuticals: Makers Nutrition's Private Label Product Line
Industrial: Magline LiftPlus
Software – Big Data: CareerBuilder's Customer Health Score Tool
Software – Cloud App/Service: FieldEdge
Software – Cloud Backup/Storage: Quest Rapid Recovery v6.1
Software – Cloud ERP: Intacct Contract and Revenue Management
Software – Cloud Infrastructure: Wind River Titanium Control
Software – Content Mgmt: Built.io Contentstack
Software – Data Visualization: Lucky Orange Dynamic Heatmaps
Software – Ecommerce: Ve Interactive VePanel
Software – Endpoint Security Mgmt: Dell Data Guardian
Software – FinTech: Ingo Instant Payments
Software – Human Capital Mgmt: RiseSmart Insight
Software – Identity/Access Security: IdentityForce's UltraSecure+Credit (Version 5.1)
Software – Infrastructure/Platform AAS: FIS Merchant Processing System
Software – Integration Solution: West Video Meeting Gateway
Software – Learning/Workforce Dev: Articulate 360
Software – Marketing/PR: Digital Air Strike's Mission Control
Software – Mobile On-Demand App: Equo by Runzheimer
Software – Network Security: Cisco Stealthwatch 6.8
Software – Other: MindTickle
Software – Payments: BluePay's Premier Payment Gateway
Software – Relationship Mgmt: Vlocity Communications
Software – Supply Chain Mgmt: PRO Unlimited's Wand VMS
Telecommunications – Product: Nextivity's Cel-Fi GO
To read the full press release, click here.