Why Make the Switch to Flat Rate Pricing
By Marc Freund | June 4, 2016 | Blog, Industry Applications, Industry Experts, News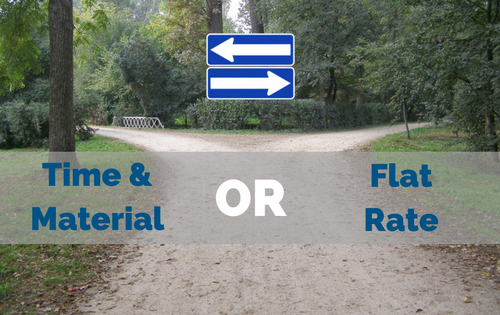 Advantages of Flat Rate Pricing
More and more contractors are making the switch to flat rate pricing to boost profits and increase efficiency. You've likely heard strong opinions from both sides on why you should or shouldn't make the switch but Flat Rate pricing certainly has some key advantages for your business and for the customer.
Benefits to your business
Flat rate allows you to raise labor rate and material markup without customer objection. Since you know how much you're going to bill for a given job you can also calculate how quickly your techs need to finish a job in order to stay profitable. As your techs become more experienced and complete jobs even quicker you are able to make even more money off of the job.
For example, if a certain job takes 2 hours to complete, and we bill $50 an hour, our expected revenue is $100.
Now say we move to flat rate pricing and charge $100 for the same job. Any time a tech completes the work in less than 2 hours, we're making the same amount of money and are still able to get to the next job quicker.
This means that you need to rely on techs getting the job done quickly and efficiently.
Help your techs become even more efficient in the field.
Benefits to the customer
Flat Rate pricing means your customers know exactly what they are paying upfront. Any time a customer is paying by the hour, you run the risk that they'll become upset that your tech wasn't "efficient enough". Imagine your tech goes out of their way to protect the homeowner's property only to be accused of driving up the price by taking too long.
With flat rate pricing, your customers won't ever worry about paying more for "unnecessary precautions" and it relieves possible tension around discussing pricing for techs in the field.
Create Your Own Pricebook or Go With a Pricing Software Company
As with anything in life there are tradeoffs to both.
Benefits of using a flat rate pricing software
Flat rate software companies certainly make the initial setup easier.
They can even help you expand the services you offer by giving guidance on different tasks and how to price for them. These companies have pricing guidelines for almost any service you could dream of.
Most of them also stay up to date on the latest industry trends for what customers pay for services and how to price them profitably.
Benefits of creating your own flat rate pricebook
While a flat rate software will import thousands of different tasks to cover all types of services, a flat rate pricebook created by your company will focus on the services you perform most, making billing an easier process.
Another major benefit, is you can also control pricing for your area. You know your market better than any generic software and can price accordingly. This is very important if you are concerned that an off the shelf pricebook might price you out of your market.
Importing an existing Flat Rate pricing package is much faster and easier while creating your own gives you the ability to customize. So you have to decide what is most important to you, a service that is quick and painless or the ability to customize pricing to your specific needs.
Run a Test With Flat Rate Pricing
In the 35 years that FieldEdge has been around we've come across just about every concern that contractors face when deciding whether or not to switch to flat rate pricing.
"This won't work for me."
"My customers won't go for it."
"It'll raise rates too much."
"It would be too hard to set up correctly."
If you're nervous about flat rate implementation, run a simple test.
Come up with a couple of services that you can charge flat rate pricing on, send out techs to a few jobs, and see how your customer's react. Once you evaluate how the test week you'll be much more informed when you make the decision.
Choose the Right Home Service Software
If you decide to move forward with flat rate pricing, whether it's third party or in-house, make sure that your software can support it.
Make sure the software will pick a pricing tier for you automatically (e.g. after hours, does the customer have an agreement, etc.).  Having this done automatically reduces your time spent managing the process and increases your profits.