Programmable thermostats are becoming a standard in homes across the nation. Many are finding that merely changing to a programmable thermostat offers  benefits to their wallet.
In addition to being a great smart home device, programmable thermostats provide numerous advantages to AC systems. As an HVAC business, you and your team should be selling these thermostats, as they are now the standard for most areas.
Let's take a look at some of these benefits for customers, as well as different types and options available.  
Programmable Thermostat Benefits
Saves Money
Perhaps the most significant benefit of a programmable thermostat, and the main reason why many customers switch to one, is its cost savings.
With rising energy bills, reducing energy usage is the best way to combat higher costs. Programmable thermostats allow customers to adjust the temperature to meet comfort needs, or regulate the environment while they are away.
Depending on the season, homeowners can save about 2% of your energy bill for every degree the thermostat moves up or down. Also, you can create a schedule that stays in place while not at home. 
Money savings may be the biggest selling point for your customers. If you can, use tangible cost savings in your sales conversations.
Consistent Temperature 
A big plus about programmable thermostats is that they can maintain a consistent temperature throughout the home.
Instead of having the air conditioner run on high during the warmer seasons, programmable thermostats can run at a constant level and vice-versa with colder seasons. This prevents major hot or cold spots in different areas of the home. 
Advanced Features
Programmable thermostats often come with advanced features. Depending on the thermostat, customers may be able to change the temperature in their homes, even from miles away.
Some thermostats include Wi-Fi capability, mobile device syncing, Google or Alexa compatibility, Bluetooth capability, and even the ability to work with your local weather forecast. Be sure to discuss your customer's unique needs before helping them decide on the best features. 
Zoned Heating and Cooling
If there are multiple climate zones within a home, a programmable thermostat can help regulate temperature in each zone. With controls in each zone, you can customize each area in a home. 
Optimizes HVAC Systems
Pairing an HVAC system with a programmable thermostat helps a customer's system operate more efficiently.
If a customer has an older HVAC system that may be nearing the end of its life, you can prolong it by installing a programmable thermostat. It'll allow the system to reduce its workload to operate at its best – putting less strain on the system.
Saves Time
With programmable thermostats, customers can spend less time adjusting the temperature.
With manual thermostats, customers have to set the temperature during different times of the day. When it's time to leave, customers have to make more adjustments before they go. After a while, it becomes very tedious.
However, a programmable thermostat can eliminate all of those pain points. Once a thermostat is set, customers can forget about it and go on with their day, knowing that it's operating effectively. 
Different Types of Programmable Thermostats 
As you might already know, smart thermostats are not the only type of programmable thermostats. Here are the most popular programmable thermostat types: 
7-Day Thermostats:

This type of programmable thermostat works well for homes with a different heating and cooling schedule every day of the week. For example, this type may work for families or individuals with hectic schedules. It is also the most flexible type of programmable thermostat. 

5+2 Thermostats:

This type is for those with the typical five-day work week and two-day weekend. Essentially, it works for those who want one schedule for the work week and a different schedule for the weekend. 

5+1+1 Thermostats: These allow for customers to program the work week and both weekend days.

Smart Thermostat:

Smart thermostats are the most well-known type of programmable thermostat, and they are Wi-Fi enabled with the ability to be programmed from a smartphone or computer. This type works well for those with irregular schedules or those who may forget to set their thermostat. Most smart thermostats come with an app for easy programming when the customer is away from home. Also, they allow the homeowner to track their energy savings. 

Learning Smart Thermostat:

 This is a smart thermostat that learns the daily habits in your home and self-programs a schedule. As with smart thermostats, they are Wi-Fi enabled and can be programmed remotely through a smartphone or computer. For those with a regular schedule and don't want to bother setting it themselves, this is a good option. 

Heat-Pump Specific Thermostats:

 These thermostats are specifically made to work with heat-pump systems. Energy usage, while using heat, can negate programmable thermostats' energy-saving benefits with heat-pump systems.
Again, be sure to discuss unique needs with the customer when selling a programmable thermostat. Some customers may prefer having ultimate control with a smart thermostat, while others may prefer a more hands-off option.
Options
Now that you know the benefits and types of programmable thermostats, what are some of the best programmable thermostats on the market?
Google Nest Learning Thermostat
The Google Nest Learning Thermostat is one of the most popular programmable smart thermostats. As its name suggests, it learns a household's heating and cooling preferences to lower energy usage and save money. 
It comes equipped with geofencing, meaning the thermostat can lower room temperatures once someone leaves their home.
Starting at $249, the Nest thermostats are Wi-Fi-enabled and adjust temperatures according to the local weather forecast. According to their site, Google Nest has saved people an average of 10% to 15% on heating and cooling bills. As a result, in under two years, the thermostat will pay for itself. This is a good option for those customers who want a reliable and high-quality product.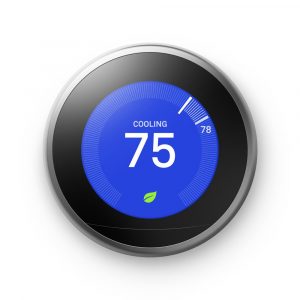 Ecobee Smart Thermostat 
The Ecobee Smart Thermostat is the first of its kind to integrate Alexa. When you're close to the thermostat, customers can ask their Amazon assistant to adjust the system to their liking. The customer can also ask Alexa to do things such as playing music or adding items to your to-do list, without being close to the device. 
Ecobee also has Bluetooth and Spotify Connect, so you can easily play music from a compatible speaker in the home. 
Priced at $220, the Ecobee is similar to the Nest — it can adjust your heating and cooling throughout your home. You can also add up to 32 sensors around your home to help with your heating and cooling. Also, Ecobee states that it can reduce annual heating and cooling costs by 23%.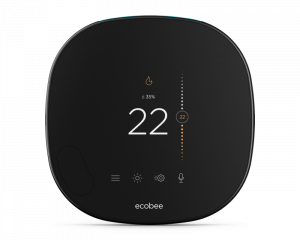 Honeywell Lyric T5 Wi-Fi Smart Thermostat 
The Lyric T5 comes loaded with various ecosystems, including Amazon Alexa, Apple HomeKit, Google Assistant, IFTTT, Cortana, and more. Like the Google Nest, it also comes equipped with geofencing technology to keep track of a smartphone's location. Its intelligent comfort control automatically determines if a home needs heating or cooling to provide quick and efficient comfort. Also, it comes equipped with smart alerts to notify you of maintenance and safety needs.
The Lyric T5 is priced at $149 and is ENERGY STAR™ certified. It's designed to use less energy while meeting energy efficiency guidelines. The thermostat has an app, Total Connect Comfort, which allows for easy control while away from home.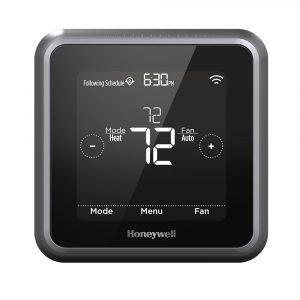 Lennnox ComfortSense 7500 Series Thermostat
The Lennox ComfortSense 7500 supports multiple programming schedules such as one week, seven day and 5-2 day. It also features the ability to create three separate weekly schedules. 
With its color touch screen controls, you will feel like you are using an app on your phone. One cool feature is the ability to track your monthly energy use. It's priced at under $175.

Lennox ComfortSense 7500
Mysa Smart Thermostat for Electric Baseboard Heaters
The Mysa Smart Thermostat is compatible with Alexa, Google Assistant and Apple HomeKit. Installs in 15 minutes and has a price point of $139. 
This thermostat works with 120-240V electric baseboards and electric fan-forced heaters. 
Has a very modern, sleek look that many customers love. Mysa also promises to save up to 26% on energy bills.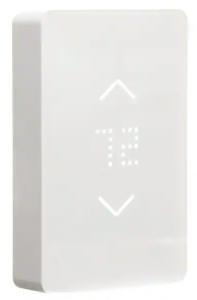 Mysa Smart Thermostat
Now You're Ready to Sell Programmable Thermostats!
Programmable thermostats are a must-have device for every home. Beyond energy savings, programmable thermostats offer enhanced functionality and control. As a result, customers can maintain and enjoy a cozy and comfortable atmosphere throughout your home.