The best field service conference has come and gone and we're already looking forward to next year's event! Judging by attendees' reactions, Service Edge Conference 2022 was a huge success and FieldEdge and Service Autopilot members walked away with a wealth of new knowledge and ideas to grow their businesses. 
The overall goal of the conference was to help you GROW YOUR BUSINESS! We did just that with amazing speakers, one-on-one support lab sessions and practical workshops. Then we threw in a bunch of fun networking events culminating with the After Party at House of Blues. 
Fun was had and memories were made (and many new friendships were forged!). A few calories were consumed as well. You can work them off in weeks to come!
Let's review the highlights and speakers of this three-day field service extravaganza!
Lawn Care Millionaire Jonathan Pototschnik Kicks Off SEC
Co-founder of Service Autopilot, Jonathan has built million dollar businesses in both the lawn care and cleaning industries. 
Members listened as Jonathan discussed what he's learned about the economy and what members can expect from the new Service Edge Conference. 
Relationships and Productivity with Steve McClatchy
This New York Times Bestselling author delivered two outstanding talks. The first session titled "Leading Relationships" discussed communicating effectively, building trust, addressing broken agreements and leading high-performance relationships. 
The second session addressed running field services businesses with the skills, tools and strategies to make you more productive. This includes leveraging technology as a tool, using tablets and smartphones more effectively.
Martha and Dom Hiring Heroics!
Martha Woodword and Dominique Williams shared recruiting and hiring strategies to help field service pros with the challenging task of hiring and retaining the best employees for your business. 
Woodward is an employee retention guru who focused on how to highlight positive culture elements to strengthen recruiting ads. 
Navy Seal Chad Williams Relates Battle to Business
On a final operation in the Al Anbar Province of Iraq, members of SEAL Team 7 found themselves being set-up on a premeditated ambush. They had the objective of capturing a deadly suicide-bomb manufacturer. In his talk, Former Navy SEAL Chad Williams recounted the harrowing details of that ominous event, while communicating the SEVEN SEAL Team maxims.
Chad demonstrated how these battle-tested truths translate to the battlefield of doing business.
Automate with Mike Callahan
Attendees learned about the five stages of business and the biggest hurdles businesses will face. Mike broke down each business stage as it correlates to annual revenue and how field service professionals can overcome hurdles with automations.
Members left with an executable roadmap on how to automate their businesses in 2023.
Julie Vena and the Millionaire Mindset
Julie Vena, Lead Master Advisor at CEO Warrior, has over 20 years of management experience and a successful business in Duluth, MN. 
She spoke about how Servant Leadership can foster a strong, loyal culture inside the office and out in the field. Sharing power and putting the needs of others first goes a long way in growing a multimillionaire company. Julie's energetic and passionate approach was on full display!
Jason and How Academy Helped Grow His Business
Attendees listened as Jason Nunemacher shared how he fast tracked his company growth. He also shared how he turned his successes into wins for other business owners through the Field Services Academy program.
Industry Trends with Jessie and Erik
Jessie Barrack, SVP of Business Development, And Erik Anderson, Product Line Manager, discussed financing and payments for the HVAC industry, which also translates to many other businesses. They shared an explanation of how payments work for merchants. They also previewed some exciting upcoming payment features that will soon be available for FieldEdge and Service Autopilot customers. 
Where to Spend Your Marketing Dollars – Tony Ricketts
Tony Ricketts presented an entertaining and useful marketing workshop: Building, Refining, and Executing Your Plan. 
Tony shared digital marketing tips, including the importance of SEO, PPC & social ads, and more. Attendees left with actionable plans for the coming year.
Gibson Teaches Sales Techniques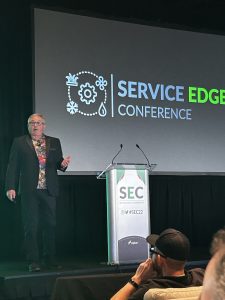 DeWayne Gibson, VP of Academy for Field Services and Co-Founder of Enterprise Selling Solutions, is an expert in selling and teaching  service techs how to sell. Attendees learned about the "secret sauce" when it comes to selling in the home and were not disappointed!! Also, FieldEdge users learned how to use the new feature, Proposal Pro, to leverage advantages over their competitors.
Maximizing Revenue with Bill Yeakel
Bill Yeakel is a Residential Sales Manager with Habbegger. He spoke about upselling your product and field services as a vital part of your business growth. Learning how to do this the right way is the most important process you'll ever implement. Closing rates go up, average tickets go up, and you'll be set to maximize your revenue in 2023.
Field Services 
Academy Overview with Chris Volpe and Jeremy Macliver
Jeremy and Chris shared exciting updates to the Field Services Academy program, including new coaching and training opportunities in 2023. They also previewed new networking and community-building opportunities within the Academy.  
Software Sessions: FieldEdge and Service Autopilot Features and Roadmap
Several FieldEdge and Service Autopilot product experts took the stage with tips on how to maximize new and robust features in FieldEdge and Service Autopilot. Tara Ventura, Director of Pr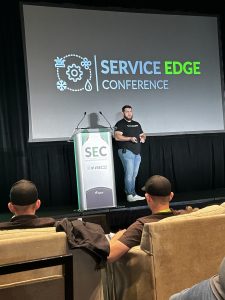 oduct for Field Services, shared new and exciting features and updates coming to FieldEdge and Service autopilot in 2023.
Cassie Fields, General Manager of Field Services, also reviewed FieldEdge and Service Autopilot company goals and vision, sharing how they relate to customers on a day-to-day basis.
Get Ready For SEC 2023!
Well, that was fun (and helpful!). Let's do it again! We hope you are as ready as we are to make this conference even more exciting in 2023. Check back for more details in the coming months! 
Related: 2022 Service Edge Conference