A Mobile solution is essential in service businesses. It can streamline your entire process and present your company as tech-savvy professionals. Mobile solutions allow you to use mobile work orders, accept payments remotely, and manage your business from anywhere on your tablet or phone.
Let's consider all the the benefits of implementing a mobile solution:
It's convenient to connect to your employees and customers 

Efficiency breeds success and growth 

Flexibility allows you to pivot when needed

Exceeds customer expectations

Secures your data 
Convenience of Staying Connected
Mobile solutions help you, your business and your customers stay connected. Everything can be done on a smartphone or tablet in the field to create work orders, gather customer approval, search repairs, and more. 
You will no longer need to have a dispatcher or office manager on the ready at all hours. A technician can take a call, create the work order, and handle the repair remotely. You'll see the finished job in the account and can accept payment at the same time!
When your employees are on the go, a mobile solution is the glue that keeps everything running smoothly. It saves time, money and keeps customers happy. 
Efficiency 
With all your data living securely in the cloud, your business operations become streamlined. Office staff can remotely assign jobs to technicians who receive a notification out in the field. Technicians can search for repairs in the field and complete a job and move on to the next one while automatically sending that information back to the office for them to process. A mobile solution like FieldEdge will help remove unnecessary steps from your equation.
Mobile apps are a big plus to the office staff as well. A mobile app significantly reduces the number of questions and calls to the office from both customers and techs. It reduces the overall pressure on employees, improving workflow, job satisfaction and customer peace of mind. 
A visual pricebook improves the technicians' sales skills with clear invoicing and quoting tools to present to the customer. A mobile solution can also help you personalize your experience with each customer. A robust software allows you to keep notes (What's the dog's name?) and show a full customer work order history so they really think you're on the ball!
Flexibility
When quick updates become available, your business automatically updates with them. New information is accessible on all of your devices and you won't experience any slowdowns. When your software is flexible, so is your business.
Matching the best techs available with open jobs, and allowing the business to pivot or move techs to other jobs is another huge plus. Also if any mistakes were made while entering job or accounting data, no worries! All you'll need to do is correct the information in one device, then it will sync across all other devices.
Customer Expectations
We all expect things instantaneous, or at least as close to it as possible. Your customers want to know how much is being charged on the spot to an exact amount, ideally before any work has been done. When you show up to complete a job, having a mobile, agile solution shows professionalism, knowledge, and credibility.
With a mobile solution you can automatically send a text, email or voicemail to alert customers that you are on your way! 
Data Security
Protecting your data is very important when every other day a new data breach is in the news. With all of your information stored in the cloud, it's backed up and stored in a safe location. There's no need for clunky servers or pricey IT consultants to manage your data. Security should be a number one priority when looking at a mobile solution.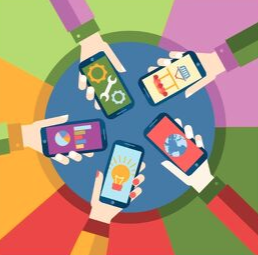 FieldEdge provides mobile solutions that have been helping contractors achieve success for over 20 years. These solutions include full work order management, dispatching, GPS tracking, flat rate pricing, and more.
See how FieldEdge can get your business moving with mobile! Book your FREE personalized demo today!

Stay Connected From Anywhere!
Now you are aware of all the advantages gained with a mobile solution. Jump on board with mobile to:
Connect to your employees and customers 

Gain efficiencies for success and growth 

Become more flexible to pivot when needed

Exceed customer expectations

Secure your data