You spend your days hiding your work within your clients' walls, making your mark seem as invisible as possible. So when it comes to electrician marketing, it might seem unnatural to put the spotlight on the importance of your efforts!
Let's take a look at some of our favorite electrician marketing tips to help you shine a light on your talents and fill your schedule with new clients.
Here's some key takeaways from this simple guide:
Top steps to revamp your online brand and effortlessly attract the right attention at the right time

Discover the importance of your work to existing clients, while also presenting new ideas for home upgrade projects

Explore the untapped potential of satisfied customer reviews

Next-level leave-behind ideas to keep your name on the top of your clients' minds
1. Spruce Up Your Website
Back in the day, contractors of all trades would jockey for position in the Yellow Pages. Calling themselves AAA1+ Electric or some other concoction of alphabetical gibberish to get their listing to appear before the competition on those sacred category pages.
Now, it's all about your website. How your electrician website ranks in a Google search comes down to how well you compile your information on your site. It's no longer as simple as stuffing your name with enough alphabet soup to sit yourself higher than the competition.
This is where the concept of SEO (i.e. search engine optimization) becomes a necessary part of your website toolbox.
SEO influences your website's search engine ranking based on these essential factors:
Mobile-First Design
If you're running your site with a CMS (i.e. content management system) like WordPress, Squarespace or Wix, these services most likely have pushed you towards using a responsive theme.
This means, the template you've used to build your website will automatically respond to the screen viewing it—adapting your content to look great on any screen size and orientation.
We used to say "make your website mobile-friendly." However, 68.1 % of web traffic originates on mobile devices. Now, it's indisputable that the vast majority of traffic accessing your site will be coming from mobile devices.
Luckily, making your site look good on mobile devices is quite painless these days.
Dip Your Toe into the SEOcean
While SEO might sound like a dense topic to someone not spending their days in marketing, but this brief breakdown will help to simplify the process.
It's all about organizing your data and providing the necessary bits to give search engines the awareness of who you are, what services you offer and who you serve.
The benefit of focusing on SEO means an increase in organic traffic, which are the type of visitors you don't have to pay to attract. In other words, organic search traffic is basically free advertising.
The key foundational element to a great SEO strategy is making sure your site has all the necessary metadata for search engines to understand your site and rank it appropriately.
Metadata – The Content Search Engines See
Not every bit of information you include on your site is plainly visible to your customers. Some elements, like metadata, are more valuable for search engines when ranking your site against the competition.
Either that information will show up along your listing in the search results, or it will be used to help categorize and rank your site based on the search criteria of the user.
Below is an example of how metadata fills out the description of your site below the link that appears in Google's search results: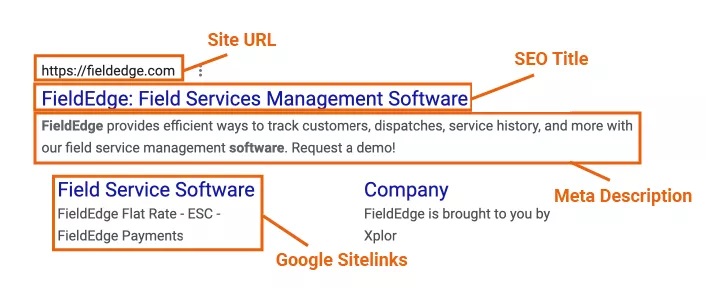 This data may end up being the most important in determining how visible your site becomes to your customers.
It might not be a windfall right away, but it creates the foundation for your site to be found. And checking on your metadata plus publishing blogs or site updates can help your site appear before the competition!
2. When to Use Emails in Your Electrician Marketing Strategy
When a client provides their email, they're trusting you with a valuable line of communication. Don't abuse your client's trust by contacting them too often.
Know Who to Contact, When and How Often
We're afforded wonderful marketing tools these days. You can automate things like:
Promo blasts

Points of contact

Appointment reminders
When preparing a blast email to your entire contact list, consider how often you're reaching out. You want to be seen as useful, not a nuisance.
Here's the secret sauce to creating a winning email campaign:
Identify your distribution audience

Draft a campaign with a series of messages targeting that audience

Write attention-grabbing subject lines

Use a tool (e.g. FieldEdge) to create your send list

Segment your list based on location, demographic, etc.

Determine the timeline for sending messages to each campaign funnel
You'll begin to see what works and what doesn't with metrics like:
OR (i.e. open rate)

CTR (i.e. click-through rate)

UR (i.e. unsubscribe rate)
Using the above metrics, you can tweak your next email campaign to better align with client needs.
And see how FieldEdge can help automate your marketing efforts. Book your FREE personalized demo today!

3. PPC Marketing
PPC (i.e. pay per click) advertising is paying for preferred placement on a search engine's results page. For example, you can have your link appear above all organic search results, but you'll then have to pay each time someone clicks on your link.
You can tune your targeted keyword to include long-tail variables, like services and location, to help minimize the overall cost of your clicks as well as the potential conversion of those who click your link.
So, using a general keyword like Electrician will grab far too broad an audience. If you choose a more tightly focused Home Electrician in Dallas TX, you'll save money per click, and those who see your link will already be searching for your service area.
You may have heard that PPC can be costly, but it doesn't have to be! Tools like Google's Keyword Planner or Semrush can help you find target keywords without breaking the bank.
4. Leverage All Reviews – The Good, The Bad, Even the Ugly
People trust people. Most consumers seek out reviews before considering a new service business. In fact, 89% of consumers seek out reviews before making a purchase decision.
Client-generated reviews are among the most beneficial forms of advertising you can hope to have. However, there is an art form to collecting great reviews while also addressing critical reviews.
Responding to Reviews
You'll always strive for five-star reviews, but even when you get the occasional critical review, you can capitalize on that misfortune. Respond with a frank and vulnerable apology and commitment to do better.
Those seeking a trustworthy service will respect your openness!
Requesting Reviews
Certain platforms do not allow you to request reviews, like Yelp. Others condemn incentivizing reviews, even the FTC frowns on that tactic.
Check with each platform before including verbiage in your electrician marketing materials requesting reviews or creating any incentives. While you can ask a customer to leave a review after a job well done, you should avoid incentivizing reviews in marketing materials.
Claim Your Yelp Business Listing
Your electrician business likely already appears in Yelp's listings, and claiming your business is free. This will unlock a suite of tools to help you manage your presence on Yelp.
You'll be able to add a proper logo to your Yelp listing as well as photos of your business. Plus, you'll have the ability to maintain up-to-date contact information, respond to reviews and even create a service request form.
Google Business
If you want your business to appear on Google Maps, you'll need to create a Google Business profile. It's free to sign up, but you must reveal your physical address, even if you're just operating out of your residence. Thankfully, you can suppress it from public view if you'd prefer that customers not see it!
A Google Business profile is necessary to receive business reviews through Google. You are allowed to request reviews on this platform, unlike Yelp, but Google strictly forbids any incentivization.
5. Content Is King
It's completely normal for a website to start out as a basic landing page, listing services, a phone number and maybe even a quick contact form. Although, adding a simple blog to your site can help you attract visitors that could turn to clients and additional income for your business. You're what many would consider a thought leader. You have a wealth of knowledge that people seek out.
Sample ideas for content:
Current industry trends

Recent company news

Step-by-step tutorials

Electrical safety tips

Community outreach

Company events

Promotions
Spend 15 minutes a day jotting down your thoughts, and then sit back to watch. You might be surprised with the audience you gather, just by speaking authentically about your passions.
However, you might not have the time to take on this additional task, or the resources to hire a writer. Luckily, you can find project-based content writers on sites like Upwork and Fiverr. Alternatively, you can offer the task to an eager office assistant, part-timer or intern.
For content ideas, just think about current events in the world around you and common issues you see on a daily basis. For example, present advice on how to handle power outages and prevent severe damage to a home's circuitry during inclement weather.
6. Expand Your Audience With Video
Your best work may seem invisible to clients, but don't forget that your skills are among the most searched for by DIY hobbyists and weekend-warrior home renovators.
Check out Electrician U to see a fantastic YouTube channel with wealth of incredible electrician knowledge on display.
You can contribute in your small way with step-by-step tutorials on electricity safety, circuit breaker walkthroughs and dimmer switch installs—the sky's the limit!
Your skills are highly visual, and the audience seeking your knowledge is anyone using electricity, which is basically every single adult on the planet.
A Single Piece of Content, a Hundred Things to Post
Have you ever heard of the modern internet marketing approach: Leave no piece of the animal unwasted? This is essentially the goal you should strive for in effective content marketing.
If you create a great YouTube video, you could pull countless other pieces of content from it. For instance, you could use a single piece of content to create dozens of TikToks and Instagram posts. Likewise, you could create a blog post describing the creation of the YouTube video, or even  post it to LinkedIn or your site.
7. Social Media Supercharges Electrician Marketing
Social media has matured far past the boring status updates or filtered photos of your lunch. Real business is done here.
Facebook
It's in your best interest to maintain a presence on Facebook. With 2 billion daily active users, Facebook is still a major player in the social media space.
Keep your business profile up to date and check regularly for messages requesting service. Remember, plenty of homeowners regularly use Facebook to communicate and find local businesses.
Twitter
You want to be available for rapid communication on Twitter. This is also one of the best platforms to push urgent information to your client base.
Just don't attempt to jump on trending hashtags without understanding their origins. You don't want to step on a serious topic with a misguided joke, or like Mark Shaeffer says in Marketing Rebellion, you don't want your hashtag turned into a bashtag!
Instagram
There's a wealth of newer homeowners on Instagram. You may find lots of potential clients here that know little about the state of their electrical systems in their homes.
Target educational content and explainer videos to this demographic on Instagram. You can also showcase your recent home system upgrades here. Smart thermostats, recessed lighting, even whole house rewires.
Spark curiosity in new homeowners that might not even know what's possible when calling you for a visit.
TikTok
Given the mystique of this platform, it's understandable that you might have written off TikTok as a fad, or too youthful. But there are many tradesmen with hundreds of thousands of followers here.
You may not generate leads, but you'll build exposure for yourself and your brand. Approach TikTok with a video content strategy, similarly to how you'd approach the blog on your company's site. Short one to three-minute videos with a tight focus on a specific topic will perform best here.
Plus, you can pepper in those fun, personality-fueled videos of you and your staff. Just be cautious on which trends you jump on. You want to look silly intentionally, not accidentally.
8. Physical Ads
Direct Mail Still Offers Results
As electricians, you have the luxury of offering "wouldn't it be nice" services. Whereas, other service industries, like plumbers and HVAC contractors, often market emergency services. You can offer dimmer switch installs, down light LED replacements, electric vehicle chargers in the garage and more.
Spark your prospects' imaginations with direct mail materials. You might grab the interest of those with common pain points, or even those not aware of improvements waiting to be revealed in their living spaces.
Fliers and Door Hangers Are Useful Tools Onsite
Remember your five-arounds when finishing up at your client's site.
If you're unfamiliar with that term—five-arounds means putting flyers or door hangers on each residence on either side of your job site and the three residences across the street! So, the five locations around the client's site that you're servicing.
Spending just 15 minutes as you wrap up at your client's site may just secure you a few new leads along the way.
9. Truck Wraps Take Your Marketing to the Streets
You have the opportunity to turn heads every time you drive to a client location. When you roll up to a client, your van becomes a billboard that broadcasts to anyone within eyesight. Consider the awesome marketing potential of that real estate on your truck.
Truck wraps are more expensive than standard door magnets, but a truck wrap is more permanent and eye-catching. Be sure to design your truck wrap with bold, complementary colors that don't clash. Try to use your main brand colors when you can.
Make your logo large and eye-catching, and keep your contact info high enough to not get hidden by traffic or other parked cars.
Consider the cost of a truck wrap as an investment. You can create a separate phone number or landing page URL to help track the leads you generate from your truck's design.
Also, understand that truck wraps don't last forever and will need yearly upkeep. You certainly don't want your truck looking tattered!
10. Leave-Behinds
As we mentioned in the beginning of this article, your work is designed to be invisible. This makes it difficult to create a lasting impression on your clients. That's why we suggest investing in great leave-behind marketing items.
You want to keep your brand in your client's mind even when your work hums along without incident long after you've left.
Some great ideas include:
Time to Put Your Electrician Marketing to Work for You
You are lucky to be a master tradesman in perhaps the most necessary and exciting utility that everyone uses on a daily basis. Electricity is the foundation of modern life. Stand tall on your experience and the importance of your job when you market yourself to your community.
Use these tips to help you:
Attract attention

Generate fresh leads

Increase client satisfaction

Grow repeat business from existing clients

Build a captivated audience online by sharing your skills
Use these top expert insights to start leveling-up your electrician marketing today with these simple strategies!
---
---